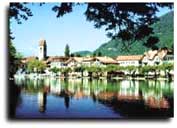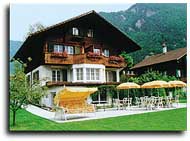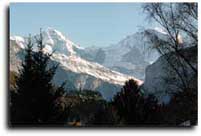 Spectacular Scenery of Switzerland's Jungfrau Region
Interlaken
is located located 50 km southeast of Bern in central Switzerland in the Jungfrau Region; this area is one of the most popular travel destinations of the country. Famed for its spectacular scenery, including famous alps, mountain lakes, alpine streams, and wild flowers, the area offers endless outdoor activities, spas, history, shopping, dining, and nightlife. Area attractions worth a look include the town's Augustinian monastery, Schilthorn and the Allmendhubel by funicular, the waterfalls at Giessbach, and the open-air museum at Ballenberg.
Family Friendly Bed and Breakfast
Sunny Days Bed and Breakfast
offers guests a friendly welcome and a family atmosphere. It's situated in a nice quiet location, just a 5 minute walk away from the center of Interlaken. Whether you're looking for an adventure holiday or just a relaxing few days break taking in the beautiful scenery, it won't take you long to realize you have found the ideal spot here in Interlaken.
The Bed and Breakfast has recently undergone a complete internal face lift. The rooms are fresh and colorful. On the south side of the chalet are bedrooms with a balconies each looking out onto the garden and the magnificent Jungfrau. All bedrooms have full bathrooms and cable TV. The breakfast room is also situated on the south side of the house.
The innkeepers are happy to help you plan your excursions, point you in the right directions for sightseeing or simply take an interest in making your stay with them in the Berner Oberland as memorable as possible, the whole year round.
See their
guide page
for additional details.